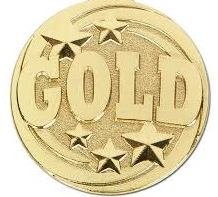 Gold Tumbling Class package - September 2021 start
Gold Package Tumbling provides each registered member "Unlimited" tumbling classes for 7 months.
Months incluce September 2021 through November 2021 and January 2022 through April 2022.

This $420 invoice includes $60 per month for 7 months which will be auto billed to your credit card on file the 25th of each month prior to the upcoming month of participation.
(No auto payment on November 25th due to no December tumbling classes)
Please check the box "DEPOSIT ONLY" at check out to only pay $60 per month.
Otherwise your card will be charged $420 for the full season of classes.
If you need to cancel your membership, you must email the office at m.green@razzledazzlenm.net BEFORE the end of business the Thursday before auto billing takes place.
If you do not want to be on auto billing you can pay $70 per month in cash or money order in office or by mail.