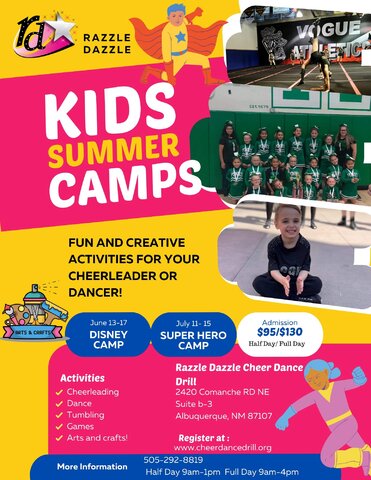 Full Day - Super Hero Cheer Camp
Superhero Cheer/Dance Camp (June 21st - June 25th)
9:00 am – 4:00 pm

9-10am Stretching and Warm Ups

10am-12:30am Tumbling, Jumps, and Cheer Basics

Snack/Break: 12:30-12:45

12:45-1:45pm Dance Basic, and Rythm Technique.

Lunch: 1:45-2:15pm

Craft: 2:15-3pm

Snack/Break 3-3:15

3:15-4pm Work on our Parent Performance.


All camps will be run by 2 CPR Certified Coaches with max class size of 30 students. Spaces are limitted...SIGN UP TODAY!!!
***Classes are subject to cancelation if less than 5 students register***